Pool of Costumes(Fire to Ice)
"Costumes is a garment that is meant to be wear on special occasion or on stage NOT to be wear on the daily basic(Sam Syadeed Samat, 2012")
Movie maniac...well one fact about me though;). Well when it comes to movie, my first glance will be the costumes(a must). Hunger games, and Mirror Mirror. That was the two movies that given me the 'wow factors'...
MIRROR MIRROR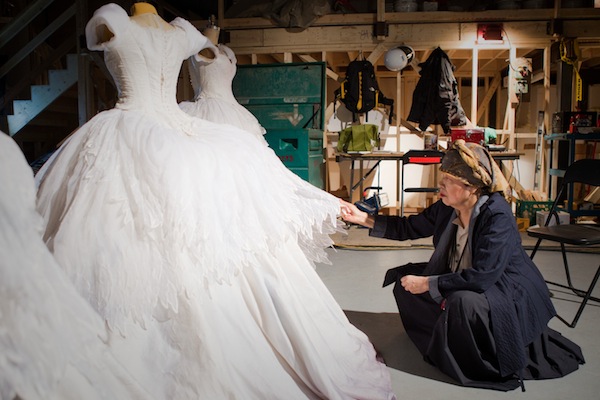 The costume designer EIKO ISHIOKA. I just love this white dress worn by the snow white during the ball BUT NOT THAT SWAN HEAD GEAR.*i bet PETA are well aware of it.
Snow white fairy tall gown. At the first glance, honestly for me it is a bit messy BUT THAT'S A FAIRY TALE DRESS SHOULD LOOK LIKE! The color, green apple with the sakura pink JUST awesome.But double salute to all those paintings at the gown.i believe IT'S HAND PAINTED!!..just beautiful man
Doube salute to the designer as she did not forget to make a stunning costumes to all the side actors. LOOK!USE YA EYES AND heart.voila*the queen lost at this battle of gowns.
See what i meant. Just beautiful*the mask worn by the guards, WEIRD but in a good way though. She redefine the cliche' design for this head piece.
The WEDDING dress. GOsh those garments being stack to give the feathers look alike just BRILLIANT!!!!!.the veil just describe the drama of wearing THAT PAINFUL CORSET*gosh there's a machine to wear a corset???Like seriously??
THE CHESS BATTLE GOWN. well this is my least favorite. Maybe the color i think? or the..??nada, still not please to my eyes, isn't? BUT TWO THUMBS up to create this couture dress.
I love the snow white hood.So wrongly nice.*imagine wearing that during London fashion week, surely make tamera mellon falls into pieces!
THE HUNGER GAMES
costume designer:
Judianna Makovsky
FIRES!!!THE FINALE DRESS AND the introduction battle costumes. HOW THE HECK DID THEY DO THAT????
I just love how they stick the crystals along her left shoulders.Complement the dress much better.*congratulation to the make-up artist.
Well some source said, the fire effect made from that dress is from the 3d effects. Gosh, if for real, the dress is such a GOOD TOOL TO CHASE AWAY all the burglars out there!!!
I want those boots plus the boots from the opening scene where the gal went into the wood for hunting!!!nice boots though!
last the MAKE-UP is just stunning.the color and effects!!!!
The lashes..fuhhh, even shu emura lost in this fake lashes battle.