When UNIQLO meets MODESTY via HANA TAJIMA
When I first heard the news Hana Tajima is doing a latest collection with the brand Uniqlo, honestly Samy mati-mati ingat it was rumor.
Cause you know how the world perceive Modesty fashion. But snap yo!! It is all real. Meh, samy nak review sikit pasal collection nie in terms of:
1) COLOURS
It is very 'down to earth colors'. Not too freaking striking, and very breezy palettes, From Khakis till navy blue. Feeling so 'blues' with the collection. Wavy and brezzy.
Tahu x the feeling, you want to go for an outing with a friend, and you just feel wanna grab something that is super easy to wear, flowy, and with a good pair of sandals and shades, you good to go. THIS IS THE COLLECTION every women with that kind of situation should go.
2) REASONABLE
From the selection of the models till the price, all reasonable. A hijab designer using a hijabist model. Kinda masuk with theme lah. The design feel so universal.Well I didn't say it going to suits all the hijabist fashion taste but the collection is subtle enough to cater different layers of audience out there.
About the price, the ranges starting from RM 79.90 till LESS THAN RM 200. Ok lah reasonable jugak lah harga dia. I should say, when first Samy look at the collection, nampak macam mahal jer, but that's it, YOU HAVE TO LOOK EXPENSIVE EVEN YOU ARE NOT WEARING HIGH END CLOTHING.
My favorite:
I love the way Uniqlo describes kebaya. "Designed to drape beautifully without hugging the body". Well it defines the traditional elements in it. I should say it is one of the best description to describe MODESTY.
This one cost only RM 199.90. Daaaa, ok lah tuh harga dia.
3) DESIGN
Honestly saying, I don't want to mention the part of being Syariah compliance ke ape, but I really like Tajima portrayed MODESTY in this collection. From the draping techniques till selection of fabric, is superb.
One thing, Samy perasan, Tajima used lots of dye colour technique, and it is quite smart as you know lah banyak hijabist yang ter over style yer, duk bubuh banyak sangat colour dh nampak macm pokok krimas lak. So nak elakkan daripada nampak mcm pokok krimas ker, YOU SHOULD WEAR THIS COLLECTION, and flaunt it like you own the world especially first of raya kan, THE WAR OF WHO WEARING WHAT, you should win in this battle!
So enough of chit chatting here and there, LADS, this should be in your RAYA WARDROBE! So 2015!!!!!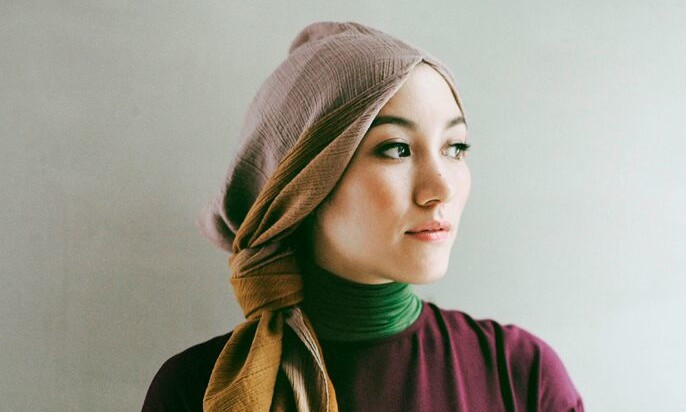 One of the scarfs selection in Hana Tajima by Uniqlo
Details at:
www.uniqlo.com
Even they have sports collection